Elopement packages Noosa and sunshine coast
We do it all for you Easy hassle free easy elopements super simple noosa elopements.
(1) The Celebrant
Minimum Legal Marriage Requirements Only | $400
Suitable for no fuss Elopements
Following our meet up for the required legal paperwork, we get on with the business of booking a basic ceremony to simply get you married in the eyes of the law.
---
'In betweener'
wedding ceremony | $650
suitable for Elopements and small weddings
More than just the legals, this package is fully customised with your choice of any optional extras, only without the personalised story about you as a couple.
---
Fully personalised wedding ceremony | $850
From our first point of contact, (over a coffee or on the phone, zoom or whatsapp), through to the delivery of your perfect ceremony, I will be immersed in designing and creating your personalised script which will be tailored to suit your needs and personalities.
This package includes the story of you both as a couple, covering how you met, what your first impressions were, and many other fun facts about how you both came to be standing there, about to marry the love of your life.
Whether it's a ceremony filled with laughter that you want, or a service filled with love and emotion – or a bit of both – tears are pretty much guaranteed either way .
​
Includes all meet ups, communications, legal paperwork, script design, wireless Bluetooth PA and wireless microphone, delivery of your ceremony and a copy of your ceremony script.
---
(2) Elopement set ups
Arbors, table & chairs etc
2 post set up $350
4 post set up $450
---
2 post Arbor or 4 post arbor
draped cloth and or faux flower sets.
table and 2 chairs (black or white sets choice)
round Rug
Local Monday to Thursday prices
we have a large range of wedding arbors and chairs but here's some basic ideas for elopements.
---
---
---
---
---
---
---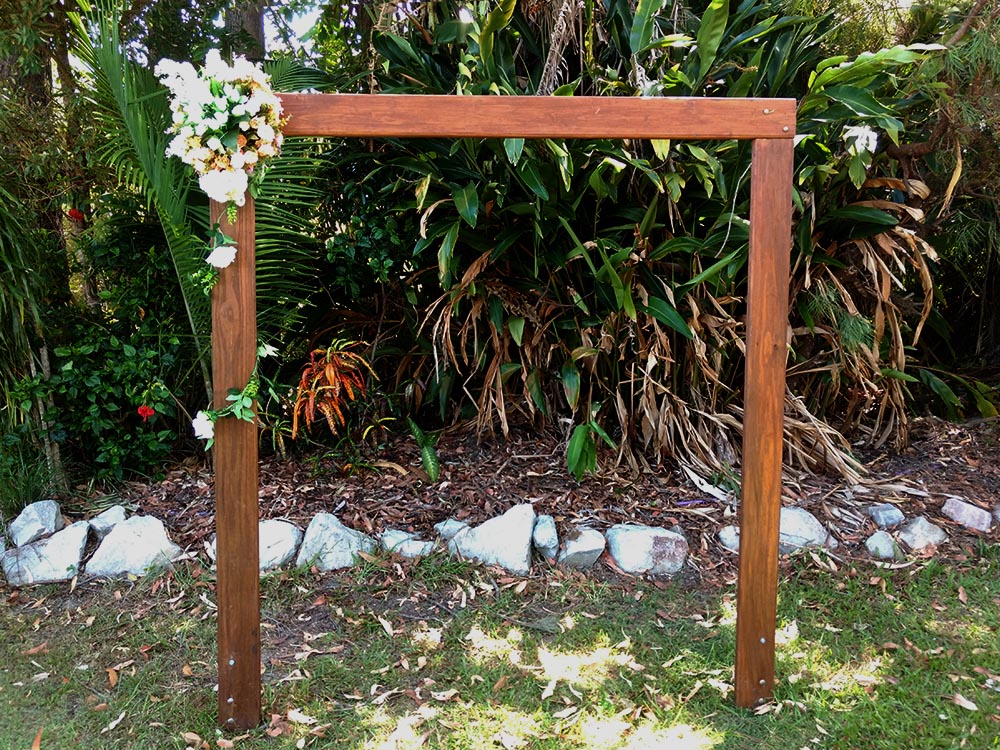 ---
---
Monday to Thursday
set up with a Tipi or wedding Arbor , with rug, flowers as seen in photos,
Registration table, 2 chairs for table,
(3) Video – Livestream
Record your wedding elopement video and or Livestream.
Wedding elopement video cost $400
Wedding elopement video and Livestream $500
Noosa area –
weddings sample clips with Tess and Lee at Hidden Grove Noosa.
---
Options we can supply professional Livestream, we use multiple connections from different suppliers to upload video to the internet and either a page we set for you or to your own wedding web page we can also build for you if you don't have as yet.
We record the wedding video on cards also and supply you with an edited video of the wedding as well
---
(4) Photography package
Elopement photography package includes all edited files and Raw files on USB drive plus a hardcover coffee table book as pictured below.
approx 1-1/2 hours photography, ceremony and photoshoot location.
photos – wedding photos albums
---
Full Elopement packages available includes:

1) Professional wedding Celebrant
includes approx 10 to 20 hours of ceremony preparation administration and legalities before and after the ceremony.
Rehearsal available for local locations.

2) Local Permit application (if required for location)

3) Wedding set up, Arbor & Decoration, cloth and or optional flower set, up to 6 chairs Tiffany or Americana, Registration table and 2 x chairs
arbor choices https://sunshinehire.com.au/wedding_arbors.html

4) Professional Photographer for ceremony and photoshoot , supplies a hardcover Coffee table book as below plus all files onto USB drive.
Optional or additional
Award winning videographer who supplies an edited wedding video of Ceremony and photshoot.
Optional or additional
Wedding Ceremony LiveStream
a professional wedding livestream with your own private wedding page similar to this https://easyelopements.com.au/tink-db/

Prices
Monday to Thursday – $1800
Friday, Saturday, Sunday, bank holiday, $2100
* Extra costs – Permit if applicable, prices vary for permits if required depending upon location…
---
Basic elopement package from $350 monday to Thursday
Includes – arbor ,draping, faux flowers- Registration table and 2 chairs – Rug
---
Look at our Value for money all inclusive elopement package
Perfect if you have your own Celebrant or Pastor, and if not we have available for you

1 – set up with a choice of wedding Arbor , with rug, flowers as seen in photos,
Registration table, chairs for table, extra chairs Tiffany or Americana for guests up to 6 people ( more available and benches)
2 – professional photographer for ceremony and photoshoot approx 1-1/2 hours photography and photos can be delivered with USB files. RAW and edited finished files plus optional a hard cover coffee table album (included)
OR
An awesome video of the wedding, ceremony and photoshoot after the ceremony, fully edited with 2 edits, short highlites version approx 2 or 3 minutes and full prep, ceremony, photoshoot, circa 30 minutes video,
Videographer approx 2 hours and edit included
OPTIONAL you can swap the video or photography for a Livestream wedding video for those overseas or outa state peoples of the wedding ceremony, this also includes an edited version to arrive within a few days.
Monday – Thursday (excluding bank holidays) $1050
Friday Saturday Sunday and bank holidays $1250
Note: the Celebrant is not included in this package but we can add if required
Full packages of weddings up to 150 persons available with our partners Sunshinehire
we can customise and give you the best price to suit. please just ask and advise
Elopement packages Noosa at Easy elopements can set up an easy package for you across the sunshine coast with a choice of set ups.
Super simple noosa elopements Michelle at Sunshinehire.com.au
Mobile – 0488 122 802.
---
Call Michelle 0488 122 802 – Jeff 0455 15 7728